BEACHVOLLEYBALL-EQUIPMENT High quality equipment at fair prices
From beginner nets to professional equipment Funtec always offers the best quality at fair prices. All our products have a long service life and some even withstand vandalism. Convincing characteristics that have proven themselves: our professional equipment is known worldwide. Nevertheless in case replacement becomes necessary, we gladly provide the appropriate spare parts.
Home of beach volleyball equipment since 1992
Since its foundation in 1992, Funtec has been developing professional beach volleyball equipment and
equipment for recreational sports. In addition, as the supplier of the first beach volleyball world
championship in Los Angeles in 1997, we have been a competent partner and supplier for the top sport since
day one.
Our professional beach volleyball facilities are easy to set up and operate. The sophisticated technology
has been developed for top sports and is appreciated internationally by organizers and beach facility
operators.
Contact us
Beach volleyball is a dynamic sport – this also applies to our product development. We are always looking
for new innovative ideas and materials that make our products even better. In doing so, we benefit from the
feedback of our customers, which flows directly into development.
Multifunctionality in beach sports
Playing a spontaneous round of beach volleyball with friends in the park or at the beach: with Funtec beach volleyball nets, you remain as flexible as possible in your free time. In addition to stationary beach volleyball systems, we also offer mobile nets that are easy to transport and quick to set up or take down. With our "switch system" you can even change the sport spontaneously: Our beach facilities can, for example, be converted from a beach volleyball field to a beach soccer field within a few minutes.
Contact us
Advantages


Maximum flexibility


Wide range of applications


Easy transport


Quick assembly and disassembly


High quality


Whether beach or city park: enjoy beach volleyball at any location
Our mobile beach volleyball nets are easy to transport and quick to set up – whether on sand or grass. The
mobile sets, including accessories such as tension straps or ground anchors, can be easily transported in
the matching carrying bag. The assembly system of the net systems is also uncomplicated: similar to a tent,
the posts are assembled and erected.
The plug-in system of the transportable net posts ensures a quick assembly and thanks to the strong
tensioning straps, the net can be perfectly tensioned. With our "Switch-System", beach sports becomes
maximally flexible: Our beach facilities can be converted, for example, from a beach volleyball field to a
beach soccer field within a few minutes. You can get different nets and posts for every level of play from
Funtec.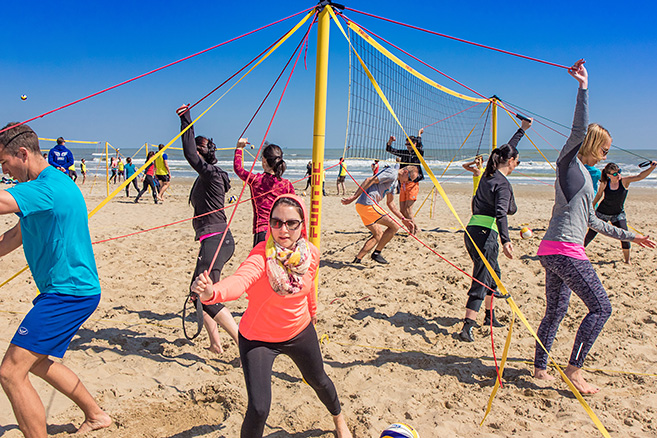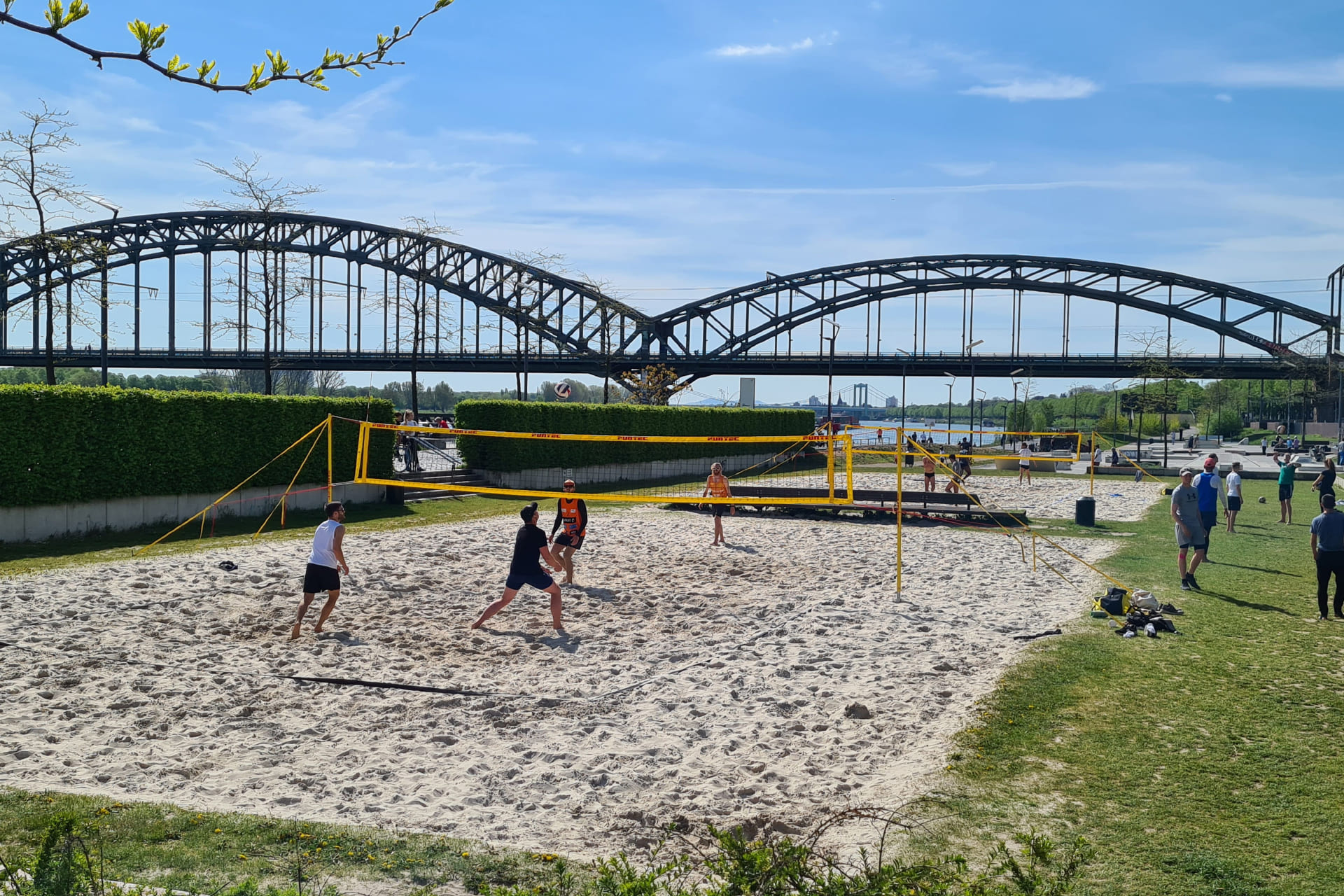 Safe in every weather
Stationary beach volleyball facilities have to be robust and weatherproof so that they can serve their purpose reliably for a long time. With Funtec's stationary net systems, you are well equipped for every game, even in the professional sector - no matter the weather. Our TÜV-certified beach volleyball net posts are characterized by the highest quality and are well thought out down to the last detail. Another plus is the easy handling.
Contact us
Advantages


Weatherproof


Durable


Long-lived


Easy to operate


TÜV tested


Net advertising that works
Printing on the edges of beach volleyball nets is important for the professional appearance of sponsors and other supporters of the sport. As a central element on the court, the beach volleyball net is visible to spectators and players at all times, making it the perfect advertising space. No matter if it is used for recreational sports, TV broadcasts or photo shoots. The beach net can be customized for relatively manageable costs. The edges are printed with advertising around the net and then assembled by hand into a professional net.
Contact us