WELCOME TO OUR HOME OF SPORTS EQUIPMENT Proficiency and Innovation
As the market leader for beach sports equipment, we offer not only the highest technical expertise and reliable service, but also the highest standard for recreational and professional sports. If you are looking for passion and quality in beach sports equipment, you will find it at Funtec.
About us
High quality equipment at fair prices
From beginner nets to professional equipment Funtec always offers the best quality at fair prices. All our products have a long service life and some even withstand vandalism. Convincing characteristics that have proven themselves: our professional equipment is known worldwide. Nevertheless in case replacement becomes necessary, we gladly provide the appropriate spare parts.
Learn more
From mini courts to fully constumized solutions - everything is possible
Whether an all-inclusive package for the classic mini court or a fully customized solution for unusual sizes: Funtec knows the requirements for many sports and offers a large portfolio for indoor and outdoor wall systems. Temporary or mobile soccer courts are also no problem for us.
Learn more
Netting Systems for soccer stadiums and golf courses
Maximum safety down to the smallest detail: this is what characterizes Funtec's back goal nets and overhead safety nets. Thanks to the adjustable mounting, our nets always ensure the safety of fans and players in every stadium.
Learn more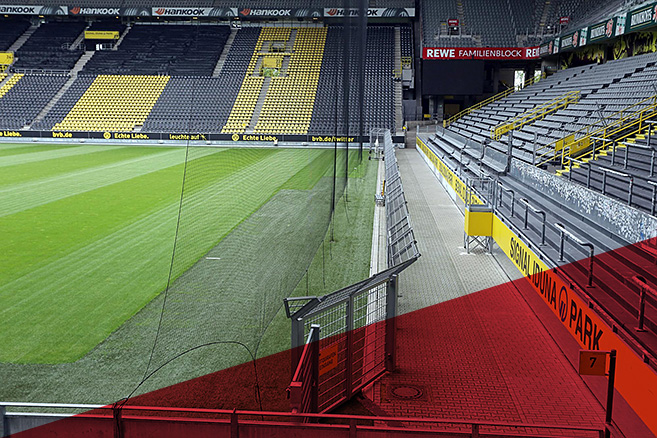 Our references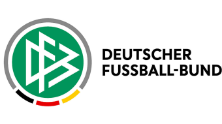 Costumer Reviews
With Funtec, we were able to provide our special school an exciting student project:The installation of a whole soccer court as a hands-on experience. When a worldwide acting company has not only the expertise but also the heart and patience to provide special needs adolescents with such an important experience, then I can only say: Great People, Great Company!
Jan Schütz(Principal Matthias-Hagen-Schule, Euskirchen)
Great Service, very competent and friendly staff. They turn the impossible into the possible.Can only be recommended.
Mathias Paplauer(Sport- & Freizeitpark Fun4You)
Mikasport is proud to be national representative for Funtec Sports GmbH in the Norwegian market. Norway is a country with extreme nature and harsh weather conditions along our long stretched coast line. Funtec has proven themselves to be a consistent supplier of high quality products with continuously development of new and highly practical innovative solutions that works in all conditions. The customer service is impeccable and of the highest quality at all times. You might think we are paid to give this statement, but we are not. Our sincere opinion on the Funtec products and the Funtec people is that they are of top quality, and we are delighted to give them our warmest recommendations.
Geir Opseth (General Manager and Business Developer, Mikasport AS)
I have been playing beach volleyball with Funtec Net Systems for decades and in the professional sports segment there is nothing better.
Jörg Ahmann(Beach volleybal bronze medailist and former german national U23 manager)
Podolskis Streesoccer Base
With his futsal base and the seven indoor soccer courts equipped with our 3FPRO wall system, does Lukas Podolski redefine the standard for indoor soccer arenas in Germany. Both multifunctional mini courts are wheel chair accesible, the soccer courts have differing sizes and styles, and outstanding. Everything fits together for an unparalleled atmosphere. Funtec is proud to be the partner of choice for this project.
In honor of BVB
Soccer lives in Dortmund; and on the Borsigplatz it is celebrated. Nearby a statue was erected in honor of Dortmund's Max Michallek. We provided a state-of-the-art and vandalism-proof mini soccer court, because our partner Polytan recommended us. The wall system constains multiple powder-coated elements and the steel overhead netting made from Dralo(copyright symbol) is spanned by a black self-supporting aluminium construction.
Customized solutionsare our standard
For Polytan and the municipality of Rüthen did we provided a multi-purpose sport court that measures 30 x 15m, has extra wide 4m goals and TÜV-certified basketball hoops. The vandalism-proof implimentation guarantees a long life for the court. The wall system is situated at a 5% incline. No optimal circumstances for common wall systems, but our products are far from normal. Our workers found even for this unexpected issue a solution and after 5 days the court was finished.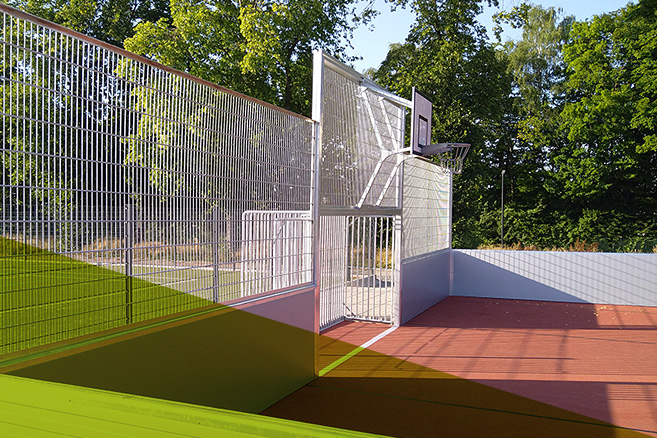 Have a career at Funtec
Since 1992 we have been passionately producing sports equipment for beach volleyball and assembling wall systems for soccer courts worldwide. For the assosciated manual tasks, we are looking for dynamic assemblers and production staff to support us in our sports mission.
Career
Sport systems made in Germany
From Hennef to the world: Funtec has been passionately developing and producing systems for beach sports since 1992. In addition, we assemble wall systems for soccer courts worldwide. At our location in Hennef, we produce TÜV-certified sports equipment and also custom-made products for individual customer requirements.